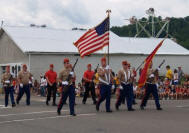 Ripley is the proud home of America's Largest Small Town Fourth of July Celebration.
Welcome to Ripley, West Virginia
Welcome to the City of Ripley, West Virginia. A small, progressive city, located in the beautiful Appalachian foothills of the Ohio River, Ripley enjoys the linkage to the junction of the two major road systems, Interstate 77 N/S and US Route 33 E/W. The seat of Jackson County, and surrounded by a pristine valley rich in natural wonders and beauty, Ripley has always been the regional heart of activity. Ripley is home to America's largest small town Fourth of July celebration. We are "Proud of Our Past and Excited About Our Future." We hope you find this website informative and helpful.